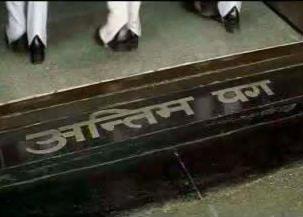 Address: Dehradun, Uttarakhand, India
Full Name: Indian Military Academy (aka IMA)
Established: 1 October 1932
Motto: Valor and Wisdom
Colours: Blood red and Steel Grey
Type: Army Academy
Area: 5.7 km2 (1,400 acres)
Training Duration: One Year (TGC/NDA) / One and Half years (CDSE)

History
The first batch of 40 Trainees (GC or Gentleman Cadets as called at IMA) began training on October 1, 1932, Brigadier L.P. Collins was the first Commandant. On 10 December 1932, the institute was inaugurated by Field Marshal Chetwode. Field Marshal Sam Manekshaw was one of the Gentlemen who passed in the first batch
Training
Training at IMA is aimed to mold the physical and mental skills and improve the leadership skills of cadets. Training at IMA includes Physical training, drills, weapons training, leadership development, and practices form the focus of the training. Full emphasis is given to sports facilities in the academy, the academy is equipped with courts of outdoor games and indoor games. North Campus of the Academy has a Polo Ground along the Tons River.
Cadet Life
A cadet is expected to follow the following rule in his life, these lines are excerpted from the speech of Field Marshal Chetwode at the inauguration of the academy in 1932
The safety, honor and welfare of your country comes first, always and every time.
The honor, welfare and comfort of the men you command come next.
Your own ease, comfort and safety come last, always and every time.
Modes of Admission
NDA – Conducted twice in a year
CDSE – Conducted twice in a year
TGC – Technical Graduate Course Conducted twice in a year
Campus
IMA is in the foothills of the Himalayas, the weather around the academy best suits the training purpose to train young mens into dynamic warriors.
Notable alumni
Following are the names of some of the notable alumni of IMA. The list is long and is increasing.
Captain Manoj Kumar Pandey, Captain Vikram Batra, Captain Anuj Nayyar, General Yahya Khan, General Muhammad Musa, General Tikka Khan, Lt General Ghulam Jilani Khan, Lt General Habibullah Khan Khattak, General Ibrahim Ismail.