Command Task (CT) is an important tool to test the leadership quality of a candidate. CT is generally the second last test of GTO test battery. Here we will discuss subtle details regarding your conduct during CT.
Let's start with a brief introduction of this test, in this test each one of you will be made commander individually and you will be asked to choose two subordinate to assist you to complete the task assigned to you. The task will be similar to PGT or HGT but here commander will be responsible for the successful completion of the task, your group size here will be of three members, generally, 15-20 minutes are given to complete the task.
When you will be called for the role of commander then GTO will have a small talk of somewhat 30 seconds to 1 minute with you, it is important to give due importance to that also.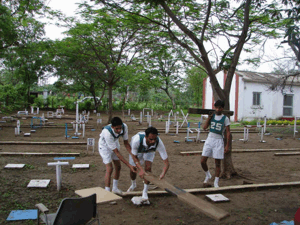 Role as Commander
You are made as a commander so be like that but don't put your hands in pocket and just pass the order, her your skill regarding men and material management will be judged. Make your subordinate work hard but you are also required to work; you need to work with team spirit. Cheer your subordinate and keep motivating them, praise their good work and if you find they are not doing something accordingly then calmly point them and correct them. You must make full use of your subordinate but in a Gentleman's way.
Role as Subordinate
As a Subordinate you are there to assist your commander and follow his instruction, you are not required to give any advice or speak without the commander's permission. Don't take any step without your commander's order or against his will.
How to Choose Subordinate
Your choice regarding your subordinate must be a smart one. Don't just choose anyone to be your subordinate just because you are from Delhi and he is also from Delhi or he is of the same cast as you are. At times in the conference, this question is being asked to many candidates that why you chose that particular candidate as your subordinate. You must choose your subordinate based on his performance in the previous tasks rather than last nights promise. Your choice may depend on the type of task i.e. some task requires a strongly built man, some require a lightweight. So, make a smart choice and if asked why you chose that particular candidate then accordingly justify your choice with his qualities due to which you chose him.
What if you are not called as subordinate
At times many candidates will find that they are just once called as subordinate or not even once, don't bother about this thing as this will not hurt your selection in any way. But if you are asked that you are not even once called as Subordinate then you have to justify yourself, but don't say that others have planned last night.
Even if you are called many times then you might be asked what reason do you think that you are called that many no. of times? Give a smart answer with justification.
How to start as a commander
As soon as your Subordinate reaches at the spot where your task is then your time starts. However time is just for the name no such strict rules are there that you need to do it within that time period, you will find that your task will not take more than 10 minutes once you get the idea.
As you know that your subordinates know nothing about your task so firstly brief them. Give them details about the task, the helping materials and the structure in your task. Below is a sample of how description should be.
"Welcome chest number X and Y, We have been given a task and we as a team is required to finish the task in XX minutes (time as given by gto), we are required to cross the Finish Line with the help of the structures that you see on the ground. We got some helping material that includes (mention whatever is given to you) as you are aware of the rules follow them strictly and do not say or do anything until I ask you to do so".
Candidates it is important to note that the above-mentioned statement is a guideline, do not mug it up and vomit it in front of GTO, use your brain and creativity to sound better.
What if any rule is broken
If either you or anyone of your subordinate has broken any rule then don't wait for GTO's instruction just move one structure back and start again you don't need to start from the beginning. If you find that your subordinate broke any rule then point out that to your subordinate and ask him to correct himself, move to previous structure and start again.
Always Thank your subordinates
At last when your task finishes GTO will ask you to move back then at that time Thank your Subordinates for their help and keep the helping material at its original place or wherever GTO asks you to do so.