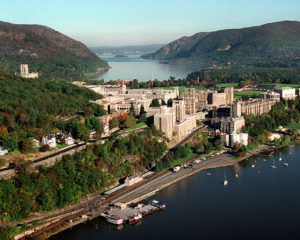 Address: West Point, New York in Orange County, USA
Full Name: United States Military Academy (aka The Point, West Point, Army, The Academy)
Established: 16 March 1802
Founder: Thomas Jefferson
Motto: "Duty, Honor, Country."
Colours: Black and Gold
Type: Army Academy
Area: 65 km² (16,080 acres)
Mascot: Mule
Training Duration: Four Years

History
The history of USMA (United States Military Academy) dates backs to the year 1778, the period of American Revolutionary War. After the War, the then president Thomas Jefferson signed the documents for establishing USMA on West Point of Hudson River in 1802. Joseph Grander Swift and Simeon Magruder Levy were the two first graduates of the academy who graduated on October 12, 1802.
A big transformation happens in 1817 when Colonel Sylvanus Thayer also Know as the "Father of the Military Academy." came and upgraded the academic standards and focused on discipline. The academy first accepted women cadet in 1976 and became a coeducation institute.
Training
The corps of cadets at the USMA is organized into a brigade, the senior ranking cadet is known as Brigade Commander. The brigade is further organized into four regiments and each regiment has three battalions and each battalion consist of three companies. The complete training is full-time four-year undergraduate programme with a special attention to science, arts, and profession. Cadet's class rank determines his or her role and branch in Army upon completion of Course.
Academy Life
A cadet is expected to follow the following strict rules and discipline during the course at the Academy and also after. All cadets have to mandatory reside in one of the seven barracks buildings. The rooms in the barracks are on double (mostly) or triple sharing basis.
Apart from Physical/Military Training various extracurricular activities are organized in the Academy.
The Washington Hall is capable of accommodating all the 4000 cadets for dining together, it is mandatory for all cadets to take their breakfast and lunch together on weekdays.
Modes of Admission
A candidate must be unmarried, between 17 and 23 years of age and without any legal obligation to support a child. Initially, a Candidate Fitness Assessment and physical examination are done for appointment into the academy.

Campus
USMA is situated at west banks of Hudson River at distance of about 80 km (50 Miles) from the New York City. The campus of United States Military Academy is full of latest state of art infrastructure and amenities. The natural beauty around and within the campus makes it the perfect training ground for transforming young individuals as trained army men.
When Charles Dickens in 1841 visited the academy he made the following statement.
"It could not stand on more appropriate ground, and any ground more beautiful can hardly be."
Notable alumni
Following are the names of some of the notable alumni of USMA.
Francis Henney Smith, Sylvanus Thayer, Frank Borman, Anne McClain, Brad Hunstable, Anthony J. Guzzi, John Moulder Wilson, Jefferson Davis, Robert Alan McDonald, Julian Larcombe Schley, Thomas H. Ruger, Paul Caraway, Adelbert Ames, Luis R. Esteves, John Gregory Bourke, Humbert Versace, Roger Donlon, Wesley Clark, Martin E. Dempsey, Ulysses S. Grant, Carl Spaatz, Michael Dugan, Fidel V. Ramos, John J. Pershing, Anita Allen, Greg Plitt, Mike Pompeo.