This is one of the important criteria that you need to fulfill before joining the Indian Air Force. Discipline is one of the important things that you can't ignore in defence force.
Why are Tattoos checked?
It is important to know that you maintain proper military discipline before joining defence force. Any tattoo on your body must not hurt anyone's feeling or provoke anyone. Tattoos are accepted only if they are acceptable in the military environment and complementary to value and image of IAF.
Many candidates are unaware of the tattoo rule of IAF and they are subsequently rejected during the medical examination. Here you can get details about permanent body tattoo rule of IAF.
Permanent body tattoos are only permitted on inner face of forearm i.e. from inside of elbow to the wrist and on the reverse side of palm/ back (dorsal) side of the hand. Permanent body tattoos on any other part of the body are not acceptable. Tribes with tattoo marks on the face or body as per their existing custom and traditions will be permitted on a case to case basis.
Tattoos on the following parts are permitted.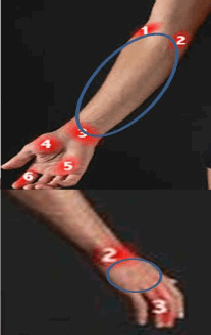 (a) Inner face of forearms i.e. from inside of the elbow to the wrist of both the hands (area between 1 – 2 and 3 in picture on the right)
Note:- Tattoos on the Area between 4, 5, 6 is not permitted.
(b) Reverse side of the palm/back (dorsal) side of both hands ( the area between 2 and 3 in the picture on the right).
Only small innocuous tattoos, that are not prejudicial to good order and military discipline are permitted e.g. religious symbols or names of near and dear ones etc
Any tattoo with lewd, indecent figures, offensive content, sexist, racist, grossly offensive remarks are not allowed.